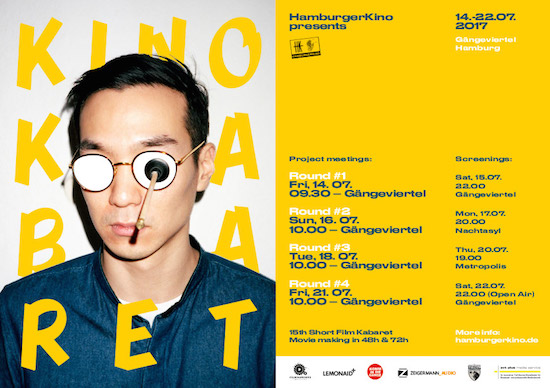 Datum:
17. Juli 2017
20:00
15th Short Film Kabaret – Movie making in 48h & 72h
14.-22.7.2017
Über 100 Filmemacher aus der ganzen Welt werden speziell für diesen Abend im Nachtasyl Kurzfilme produzieren. Das besondere: Alle Filme werden direkt in den 2 Tagen vorher entstehen und zur Vorstellung frisch fertig werden. Die Beteiligten werden anwesend sein und ihre Werke persönlich vorstellen, die alle in der Fabrique im Gängeviertel geplant und geschnitten wurden.
Weitere Infos auf hamburgerkino.de
HamburgerKino presents the 15th Hamburg International KinoKabaret!
Filmmakers, directors, writers, actors, musicians, artists, editors, sound techs, make up artists, d.o.p.s and creatives of all kinds! Do you want to experience making a short film in an incredibly easy and thrilling way? It'll be creative, productive, communicative and intense and you'll have tremendous fun doing it! 
Ever dreamt of being on a film set without all the shitty stuff normally connected to it all? Then come and join the International KinoKabaret Hamburg from July 14-22 2017 and celebrate with us the 15th edition!
Once again, about 150 crazy filmmakers from all over the world will meet and produce up to 150 short films in 3 x 48 hs and 1 x 72 hs. At the end of each round, the films will be screened at different locations around Hamburg.